History
Our intent is that our teaching of History will help pupils gain a coherent knowledge and understanding of Britain's past and that of the wider world. History is a subject driver for relevant Learning Missions.
Our intent for our History approach is:
To inspire and challenge our children, through a safe and happy learning environment, to achieve excellent standards including all aspects of the National Curriculum objectives for history.

To engage our children about History through real, relevant and purposeful learning.

To inspire children's curiosity about the past and to recognise its significance today.

To teach children to understand the complexity of people's lives, the process of change, the diversity of societies and relationships between different groups, as well as their own identity and the challenges of their time

Achieve their greatest potential by having the highest expectations of their learning. This is enabled by positive relationships and a nurturing environment.

Be confident to ask questions, take risks and extend their knowledge.

To prepare our children for further learning in History in secondary school and beyond.

To ensure that any gaps in learning, as a result of COVID, are closed and pupils meet age related expectations in History by the end of their learning journey at Knayton.
Nurture and relationships allow adults to support children to experiment and challenge themselves
Learning mission books are high quality and evidence the highest expectations
A creative and innovative approach using a range of high quality resources
We implement History through:
The national curriculum provides a structure and skill development for the History curriculum being taught. This is linked to the rainbow curriculum and our Learning Missions to provide a creative approach which reflects a balanced programme of study.
In EYFS, we implement history through play-based learning. The children explore key historical vocabulary and compare between the past and present. We follow children's interest but promote further challenge through adult interactions and by providing books to learn about historical events

History is taught through cross-curricular 'Learning Missions'. The curriculum is mapped from Past and Present in EYFS to Year 6. The curriculum progresses each year (See curriculum progression document). Learning across the curriculum is sequentially planned to build on knowledge and skills at each Key Stage.
Curriculum design links to the local context so that historical learning is relevant for our children and can be applied to real life.

Learning Missions begin with a launch to spark children's interests, engage them in their learning and end with a landing to celebrate the learning journey. High quality core texts are used to further enhance the curriculum.

Learning Missions include 'focus tasks' which every child completes linked to National Curriculum objectives. The children then have a choice of additional activities to further learning, practise retrieval and apply their knowledge to different contexts.

Opportunities for all children to access Greater Depth learning.
History is a subject driver for at least one learning mission each year.
Nurture and relationships allow adults to support children to challenge themselves

Knowledge organisers are used to ensure key knowledge and vocabulary is introduced. Teachers ensure that knowledge organisers build on previous learning and that pupils remember their learning
A creative and innovative approach using a range of high-quality resources including texts, artefacts and memorabilia.

Excellent teacher subject knowledge and use of high order questioning.

The Opportunities Pledge ensures that every child has access to a wide range of opportunities that enhance the curriculum and we ensure that they visit a museum and historical landmark throughout their school journey.
The impact of our History approach is that children are equipped with history skills and chronological knowledge that will enable them to be ready for the next key stage and for their future life.
In EYFS, children can compare some differences between the past and present and they can begin to recognise key historical events/figures from reading.

The children understand our past and their ancestors. They can recall different time periods and reflect on how it has changed society today.

They are passionate about History and its significance today.

Children can access and follow an ambitious curriculum that has our vision for exceptionally high expectations as a driver.

Standards of work are strong and consistent throughout school.
Here is what our children say:
"We get to learn about what life was like during the past. I remember learning about Florence Nightingale in the Crimean War".
"I like it because we get to see and handle artefacts and see them in real life!"
We go on trips to museums and it is really interesting"
Please click here for our knowledge, skills and vocabulary progression documents for history: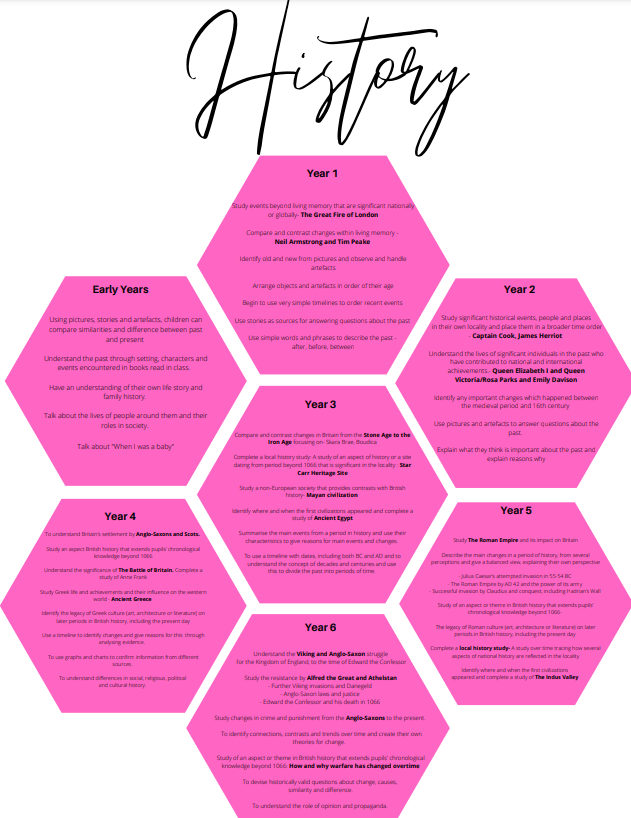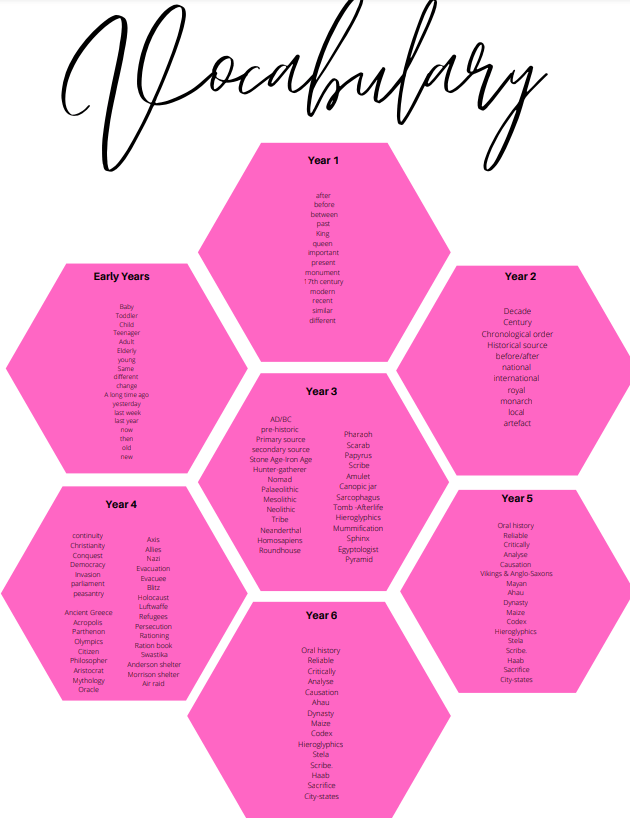 Please see below for our history recommended reads: