Design and Technology
Our intent for our Design and Technology approach is to allow children to thrive in our rapidly changing world by encouraging them to become independent, creative problem solvers. We want children to think as individuals and as part of a team.
Our intent is for children to:
Achieve their absolute potential by having the

highest expectations

of their learning
Be confident to ask questions and extend their knowledge. This is enabled by positive

relationships and nurture

Identify needs and opportunities and to respond to them by developing a range of ideas and by making products and systems

Reflect on and evaluate past and present products and technology, it's uses and impacts
We implement our Design and Technology curriculum through:
In EYFS, we implement DT by providing children with a wide range of indoor and outdoor construction equipment, from planks and blocks to junk modelling. This provision is in place everyday to support children with developing their understanding of why they build and how to adapt it when necessary. Adult interactions support children's knowledge and vocabulary, including skills involved with balancing, constructing, joining, assembling and fixing.

Our curriculum sequence of Launch, re Launch and Landing

A learning sequence of Design, Make, Evaluate

Focus groups and challenges within Learning Mission time

Learning Mission journeys reflect what is being taught, vocabulary, relevant diagrams, photos and knowledge organisers

Learning mission books that are high quality and show a range of evidence

A creative and innovative approach

using a range of high quality resources

The use of knowledge organisers to enable children to remember what they have been taught long term

Opportunities for all children to access Greater Depth learning
The National Curriculum provides a structure and skill development for the DT curriculum being taught. This is linked to our Learning Missions to provide a creative approach, which reflects a balanced programme of study.
Please click here for our knowledge and skills progression documents for design & technology: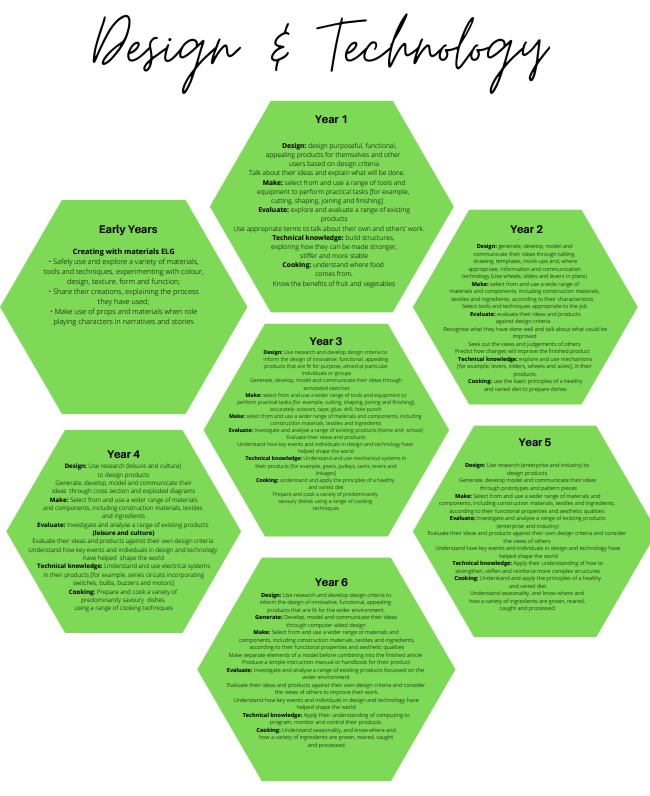 The impact of our Design and Technology approach is children design, make and evaluate purposeful products and are proud of their creations. Children's skills are transferable across the curriculum and their knowledge used in everyday life.
Here's what our children say:
"When we do D&T, it makes me think I might want to be an architect."
"I love D&T because we get to make things, evaluate them and then make them even better"
"We get to use real things like wood, saws, drills and screws. We make things that we can take home and actually use!"