E-Safety
In today's ever developing society, children use lots of different technologies and the internet. These may include:
Tablets

Laptops

Mobile phones

Games consoles
We believe that children should be empowered and educated so that they are equipped with the skills to make safe and responsible decisions as well as to feel able to report any concerns. Please click here see our Computing page which outlines our approach in school.
Parents and carers play a crucial role in supporting children to navigate the risks and make the most of the opportunities offered by technology. The most important thing you can do is to have a conversation and stay engaged with your children's digital lives.
We host annual parent information evenings with Go Wise Online, to educate and inform parents on e-safety. Information will be on the school calendar. For more information on this provider please visit: Welcome to Go Wise Online – Internet Safety – Parenting in a Digital Age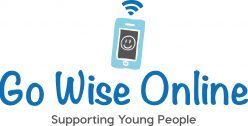 ​
We regularly communicate up to date e-safety information to our families. Please see below for online resources and guidance around internet safety and information to help keep your child safe online
E-Safety Guides and Advice
What Parents need to know about online grooming

Grooming is when someone befriends and builds an emotional connection with a child to gain their trust for the purposes of sexual abuse or exploitation, therefore it is vital for parents/carers to inform themselves and be aware of the potential danger to their children.

Policing vs Parenting - Get to grips with gaming

With the increasing popularity of gaming, it can be difficult to know how to approach this as parents. While some sensible boundaries are helpful, they are only a short term solution for how we guide children towards gaming health.

A Parent's guide to internet controls

Here's everything you need to know about internet controls in a handy guide, covering router filter controls, parental software controls, ISP filtering controls and useful recommendations.

What you need to know about home devices

Many smart devices and functions can be 'hacked' and controlled by someone outside your home. This guide will help you identify some of the ways you can stay alert and protect yourself.
A full list of guides for parents (examples below) can be found on the National on line safety website: https://nationalonlinesafety.com/guides