Global
Our intent is for children to:
Ask questions and think critically

Explore local, national and global connections and reflect on views, values and assumptions

Explore the complexity of global issues and engage with multiple perspectives

Explore issues of social justice locally and globally

Apply learning to real-world issues

Take informed, reflective action and have their voices heard
We  implement our art curriculum through:
The Oxfam Global Citizenship Education for all Schools, provides a structure and skill development for the Global learning being taught. This is linked to our Learning Missions to provide a creative approach, which reflects a balanced programme of study.

In EYFS, Global learning is taught through a play-based curriculum that encourages the children to explore their local surroundings, observe features of their environment and identify changes within the natural world.

Global learning is taught through cross-curricular 'Learning Missions'. The curriculum is mapped from EYFS to Year 6. The curriculum progresses each year (See curriculum progression document).

There is a global learning week in each Learning Mission, which include 'focus tasks' which every child completes linked to our progression document objectives. The children then have a choice of additional activities to further learning, practise retrieval and apply their knowledge to different contexts.

Learning Missions begin with a launch to spark children's interests, engage them in their learning and end with a landing to celebrate the learning journey. High quality core texts are used to further enhance the curriculum.

Using a core text to link knowledge across the curriculum.

Opportunities for all children to access Greater Depth learning.

Curriculum design links to the local context so that global learning is relevant for our children and can be applied to real life contexts, for example working with Thirsk Homeless Charity.

Through Global learning, we support national and interactional charities throughout the school year, so children are part of positive change.

Knowledge organisers are used to ensure key knowledge and vocabulary is introduced. Teachers ensure that knowledge organisers build on previous learning and that pupils remember their learning.

Global learning is part of all learning missions.

The Opportunities Pledge ensures that every child has access to a wide range of opportunities that enhance the global curriculum.
The impact of our Global curriculum is:
Children develop knowledge and understanding of social justice and equity, identity and diversity, globalisation and interdependence, sustainable development, peace and conflict, human rights, power and governance.

This learning enables children to develop skills in critical and creative thinking, empathy, self-awareness and reflection, communication, cooperation and conflict resolution, ability to manage complexity and uncertainty, take informed and reflective action.

Global citizenship allows children to develop values and attitudes which impact them beyond the classroom. Children develop a sense of identity and self-esteem, they show a commitment to social justice and equity, respect for people and human rights, children value diversity, they show concern for the environment and commitment to sustainable development, commitment to participation and inclusion and a belief that people can bring about change.
We used the Oxfam Guide for schools to inspire our bespoke Global curriculum.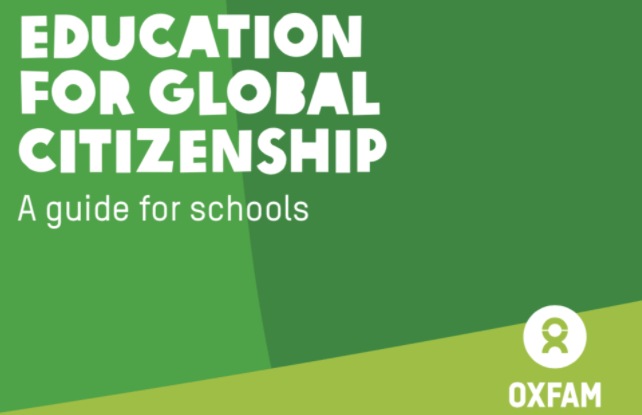 Please click here for our knowledge and skills progression documents for global education: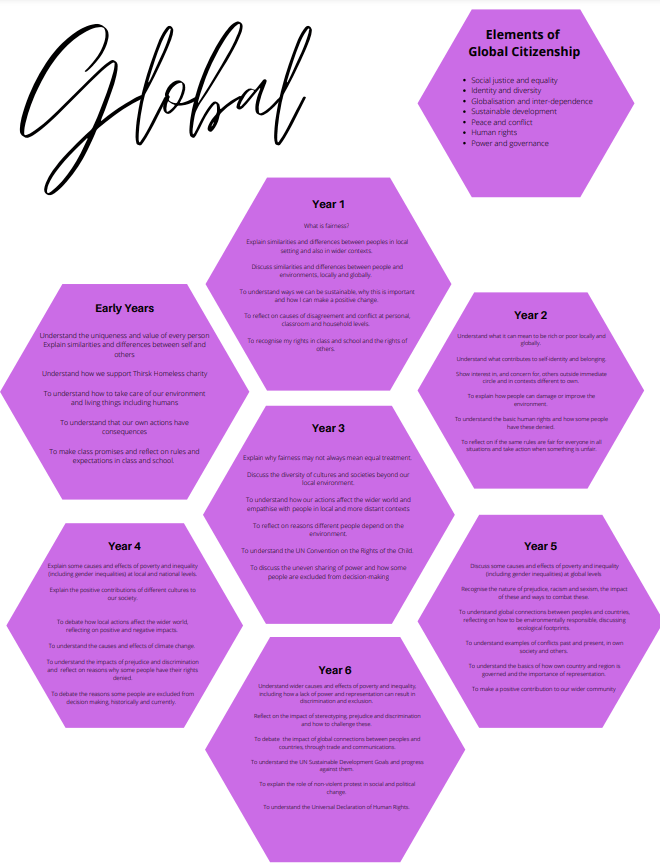 Here's what our children say:
"Our Global work helps us to understand the world"
"We have lots of charity events and raise money for different causes"
"When we watch Newsround we learn about what is happening in the world"
"It is useful to talk about and debate different global topics"