Religious Education
Our intent for Religious Education at Knayton is to allow children to develop tolerance, kindness and respect for other faiths and beliefs around the world and it is highly valued to their school life and the wider community.
Our intent for our R.E approach is that children:
 Develop a deep understanding of the theology underpinning religious beliefs and the ways in which these beliefs are lived out in reality.  

Are reflective, seeing varying world views and values through their own eyes. 

Develop critical thinking skills and higher order questioning when considering meaning, purpose and truth.

Are open minded, accepting and wondrous about world-wide beliefs, further instilling these values in others and out community.
We implement this through:
RE is taught during discrete weekly lessons, which fully immerses the children in learning about a particular religion or concept

The North Yorkshire Agreed Syllabus and Understanding Christianity are used to to plan sequential,

challenging

lessons for Year 1-Year 6.

The children's learning being real and meaningful by inviting visitors from various beliefs and trips to experience different religions and places of worship

Windows, Mirrors, Doors approach, a

creative and

inspiring

sequential approach

to R.E. Windows- learning the theology behind various world views and how their beliefs are practised. Mirrors- How children interpret values and beliefs in their own mind. Thus developing their spiritual and moral development. Doors- Our RE lessons are designed to promote our core values and changing attitudes of others through action in line with our school vision.
Our enquiry based learning, RE lessons provide opportunities to answer 'Big Questions' about meaning, purpose and truth. Through

nurture and relationships

, children feel empowered to debate, discuss and answer these.

RE books that are high quality and show a range of evidence. Teachers have the

highest expectations

a

nd children are proud of their work!
The impact is:
Learning about people from different backgrounds and environments is viewed as central to their school life and pupils can explain clearly that they don't just view courageous advocacy as fundraising but cited projects they were involved in which involved other ways of effecting change.

Pupils are strong in their conviction that their role as 'agents of change' would not end when they left Knayton school stating: 'whatever school we go to, we can make a difference there'. – Global Neighbours January 2019

Thoughtfully planned religious education (RE) lessons engage pupils in comparing challenging current issues such as the refugee crisis in Syria with Mary and Joseph's escape to Egypt. As a result, pupils have developed an impressive understanding of the plight of those uprooted from their communities and a great respect for them as they embark on often perilous, journeys. RE also provides significant opportunities for pupils' spiritual, moral, social and cultural (SMSC) development for example by pupils learning about the work of Christian and Islamic charities. RE lessons play a major role in determining the Christian character of the school. This is evident in discussions about charitable work which pupils recognise as far more than just putting money in a box. Learners' awareness of Christianity as a multi-cultural world faith is strong because they are encouraged to discuss world events which teachers display on the class Information Station. – SIAMS February 2017
Please click here for our knowledge, skills and vocabulary progression documents for religious education: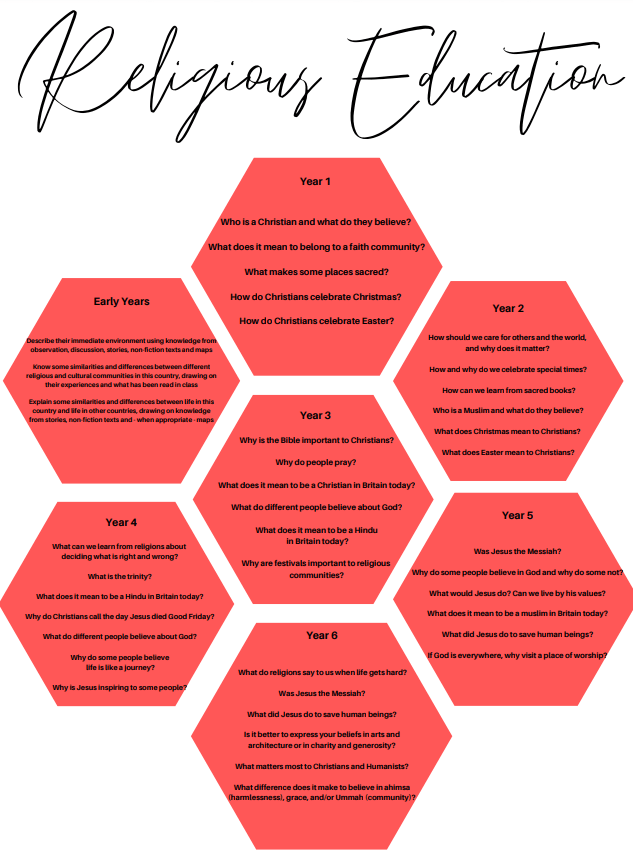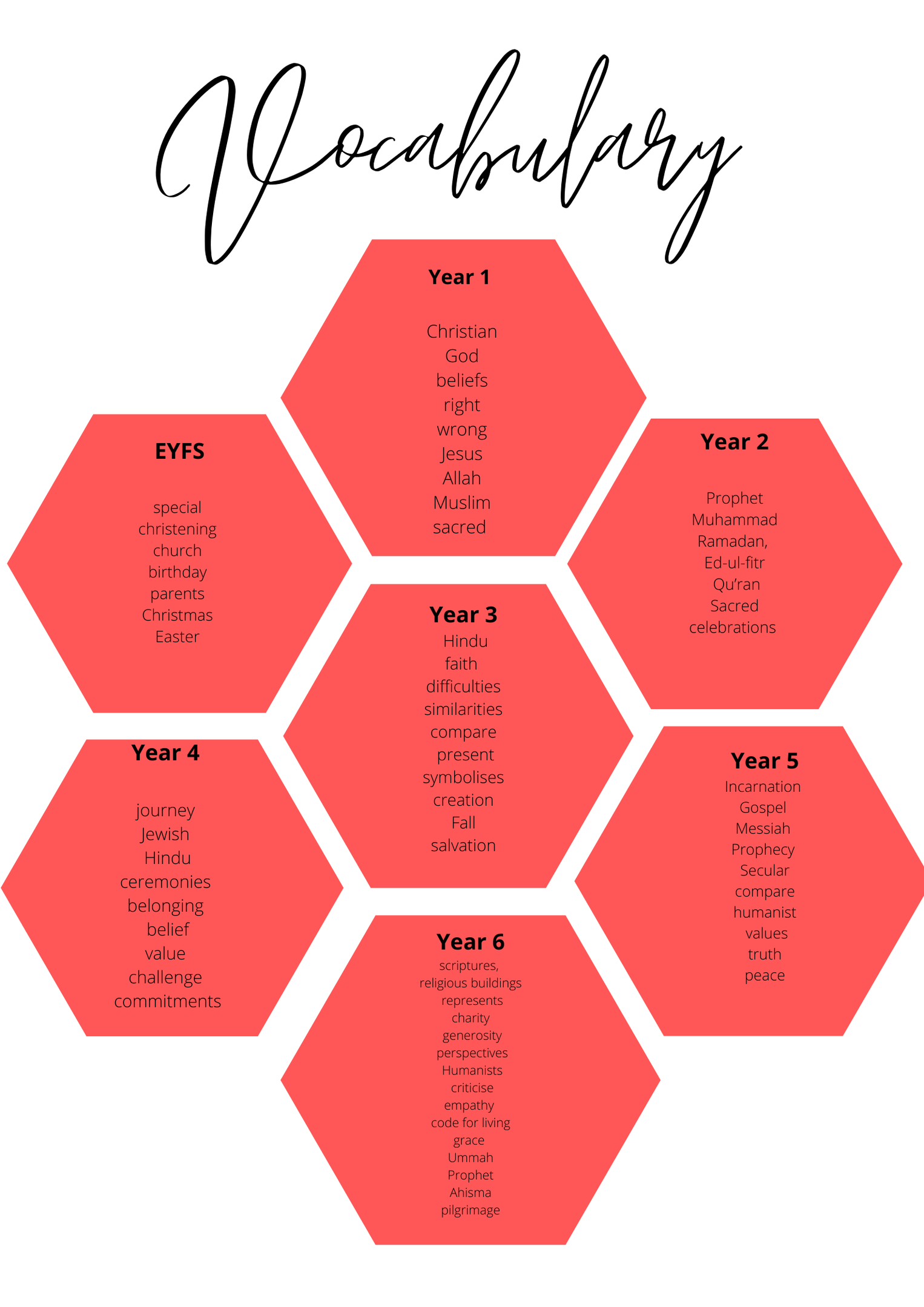 Here's what our children say:
"I think being part of the church family let's us be part of a community"
"We get to visit places of worship. I remember going to a mosque and a church that were across the road from each other. The vicar and the Imam were friends."