Modern Foreign Languages
Our intent is for our Modern Foreign Languages (MFL) approach to develop and love of and thirst for learning other languages. We strive to provide our children with a high-quality education in MFL, which develops their love of learning about language and cultures. Our chosen language to learn is French.
Our intent for our MFL approach is for children to:
Access MFL learning from EYFS through to Year 6.

Achieve their absolute potential by having

the highest expectations of t

heir learning

Be confident to ask questions, take risks and extend their language knowledge

Be equipped with skills for spoken and written French and know how important other languages can be in their future

Understand and appreciate how exploring another language will help to lay the foundations for further language learning in the future

Apply their language skills in everyday life, both now and in the future
Nurture and relationships

allow adults to support children to experiment and challenge themselves

A

challenging

and

inspiring

curriculum

using a range of high quality resources
We implement MFL through:
The national curriculum/French progression documents- designed to develop not only our children's language skills, but also their love of learning a language

Our

creative and innovative s

equential approach, which progressively develops language skills through discrete weekly taught lessons using the NYCC Scheme of Learning. This allows the children to acquire new words and phrases, then use and apply these in a range of different scenarios

A range of spoken and written focus tasks

Support to encourage and develop their speaking and listening skills through conversational work, singing and games. As their confidence and skill grows, children record their work through pictures, captions and sentences

Our French subject book that is high quality and evidences the highest expectations of work

Using a range of high quality resources

Excellent teacher subject knowledge and high order questioning
The impact of our MFL approach is that children are equipped with the skills and knowledge that will enable them to be ready for the following year and for their future life as an adult in the wider world. Children have a love of languages and learning about other cultures.
Please click here for our knowledge and skills progression documents for MFL: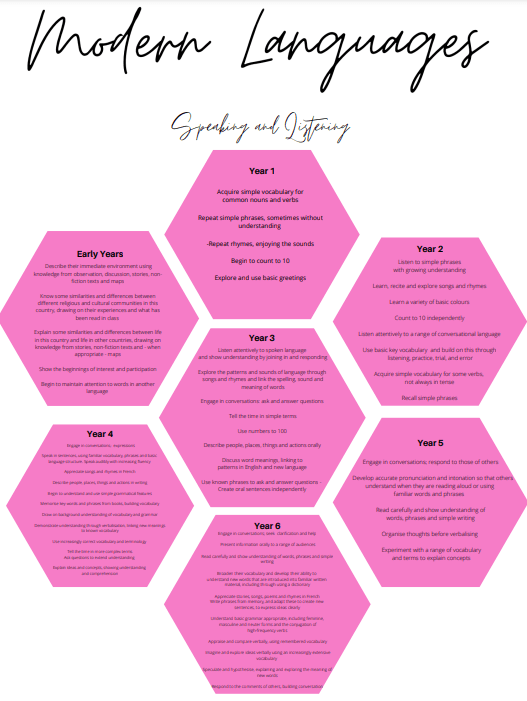 Here's what our children say:
"I love when we do French because I am learning something totally new"
"We sing songs and learn rhymes to help us remember"
"It's really fun and interesting and I like the different speaking activities"