Physical Education
Our Intent:
To strive to deliver outstanding PE that allows all pupils to thrive in a broad range of physical activities and sports.

To inspire all children to develop a lifelong love of sport for the improvement and maintenance of physical and mental health.

To allow all children to maintain high levels of physical fitness and understand the importance of leading a healthy lifestyle through regular exercise and a broad, balanced diet.

To equip all children with an array of skills that they can confidently practise and apply.

To ensure all children can participate in a variety of different sports individually, in small groups and within a team.

To provide all children with the opportunity to engage in competitive sports in a safe and challenging environment.

To encourage all children to become resilient, ambitious and determined young individuals, who are passionate about achieving their best.

To excite our children about the endless possibilities of potential sporting careers.
Our Implementation:
Effective and progressive PE Curriculum (see progression document) that allows children to develop and build on prior learning.

Staff are supported in the planning and delivery of creative and innovative lessons by highly specialist PE coaches.

Investment in high quality equipment, resources and apparatus to encourage active breaks and effective participation in a range of activities.

Investment in the School Sports Partnership to allow pupils to participate in competitions with local schools.

Providing exciting opportunities for sporting professionals and athletes to visit and share their sporting achievements.

Sports Leaders promote school values and positive attitudes towards physical activity by motivating and raising the profile of the subject amongst their peers.
Our Impact:
Pupils are well equipped with the knowledge, skills and confidence to thrive in a range of physical activities

Pupils have improved mental and physical health

Pupils can be physically active for sustained periods

Pupils can celebrate their sporting achievements confidently

Pupils have a desire to succeed when participating in competitions
Please click here for our knowledge and skills progression documents for PE: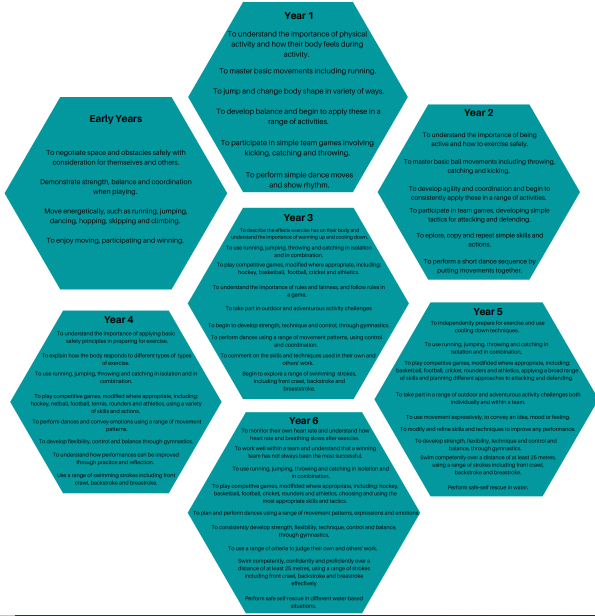 Here's what our children say about PE:
"PE helps your body and mind, I feel much happier afterwards."
"Exercising regularly is very important because it keeps you physically and mentally healthy."
"The best part about PE is getting to play with others in a team and helping them to improve".
"I really enjoy playing and learning about lots of different sports. Football, netball and athletics have been my favourites!"
"We are always so active at school and have brilliant coaches".
"The athletics competition has been a highlight of mine - it felt so good racing past the others in the sprint, whilst my friends were cheering me on!"