Geography
Our intent is to inspire children to develop a curiosity and fascination about the world and its people. We want children to develop geographical skills and communicate information in a variety of ways.
Our intent for our Geography approach is:
For children to be inspired to develop a curiosity and fascination about the world and its people

To inspire and challenge our children, through a safe and happy learning environment and achieve excellent standards including all aspects of the National Curriculum objectives

That learning is real, relevant and purposeful, including visits and field study. This is to ensure that all children, particularly those who are disadvantaged, have experiences and access to cultural capital to support their geographical knowledge and understanding

To inspire a passion for learning in our children and build confidence to ask questions, take risks and extend their geographical knowledge

For children to be equipped with knowledge about diverse places, people, resources and natural and human environments, together with a deep understanding of the earth's key

physical and human processes

To equip our children with the knowledge and skills they need to become responsible global changemakers

To enable our children to articulate their learning confidently and to remember knowledge and vocabulary

For children to apply geographical skills in everyday life

To immerse children in their learning through high quality texts linked to Geography
Nurture and relationships allow adults to support children to experiment and challenge themselves
Learning mission books are high quality and evidence the highest expectations
A creative and innovative approach using a range of high quality resources
Our Implementation:
The National Curriculum provides a structure and skill development for the Geography curriculum being taught. This is linked to our Learning Missions to provide a creative approach,

which reflects a balanced programme of study.

In EYFS, Geography is taught through a play-based curriculum that encourages the children to explore their local surroundings, observe features of their environment and identify

changes within the natural world.

Geography is taught through cross-curricular 'Learning Missions'. The curriculum is mapped from Understanding the World in EYFS to Year 6. The curriculum progresses each year

(See curriculum progression document).

Learning Missions include 'focus tasks' which every child completes linked to National Curriculum objectives. The children then have a choice of additional activities to further

learning, practise retrieval and apply their knowledge to different contexts.

Learning Missions begin with a launch to spark children's interests, engage them in their learning and end with a landing to celebrate the learning journey. High quality core texts

are used to further enhance the curriculum.

Using a core text to link knowledge across the curriculum.

Opportunities for all children to access Greater Depth learning.

Curriculum design links to the local context so that geographical learning is relevant for our children and can be applied to real life contexts.

There are regular opportunities for children to learn outdoors, undertaking fieldwork and applying their skills as geographers

Knowledge organisers are used to ensure key knowledge and vocabulary is introduced. Teachers ensure that knowledge organisers build on previous learning and that pupils

remember their learning.

Geography is a subject driver for at least two learning missions each year. Global learning is part of all Learning Missions.

The Opportunities Pledge ensures that every child has access to a wide range of opportunities that enhance the curriculum, including river, beach and local area study.
The impact of our Geography approach:
Children are equipped with geographical skills and knowledge that will enable them to be ready for the next key stage and for their future life as an adult in the wider world

Children can articulate their learning and have a deep knowledge of the world they live in and how they can make a positive impact as global changemakers

Children can access and follow an ambitious curriculum that has our vision for exceptionally high expectations as a driver

Standards in books and assessment outcomes are very strong
Please see below for our knowledge, skills and vocabulary progression documents for geography: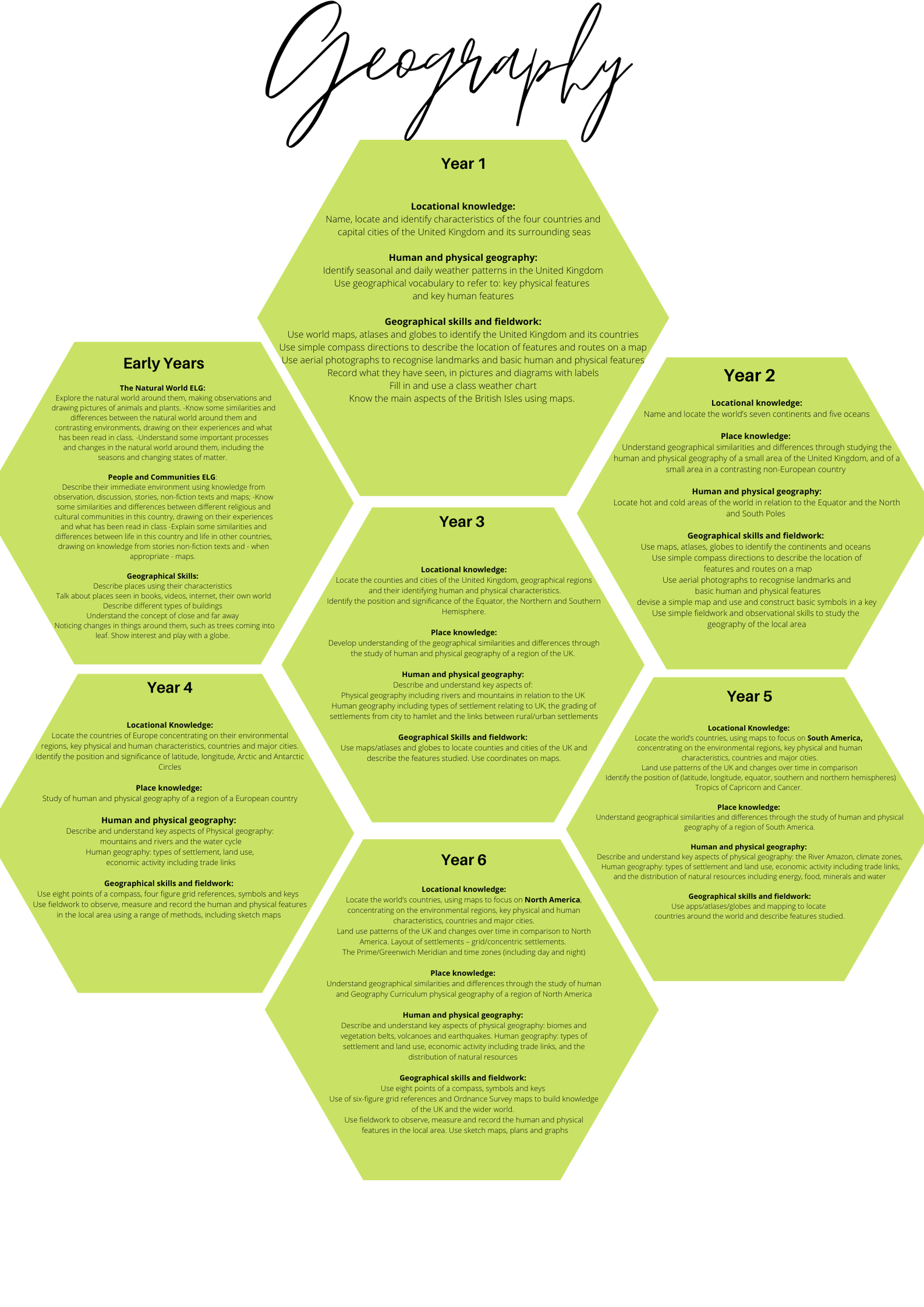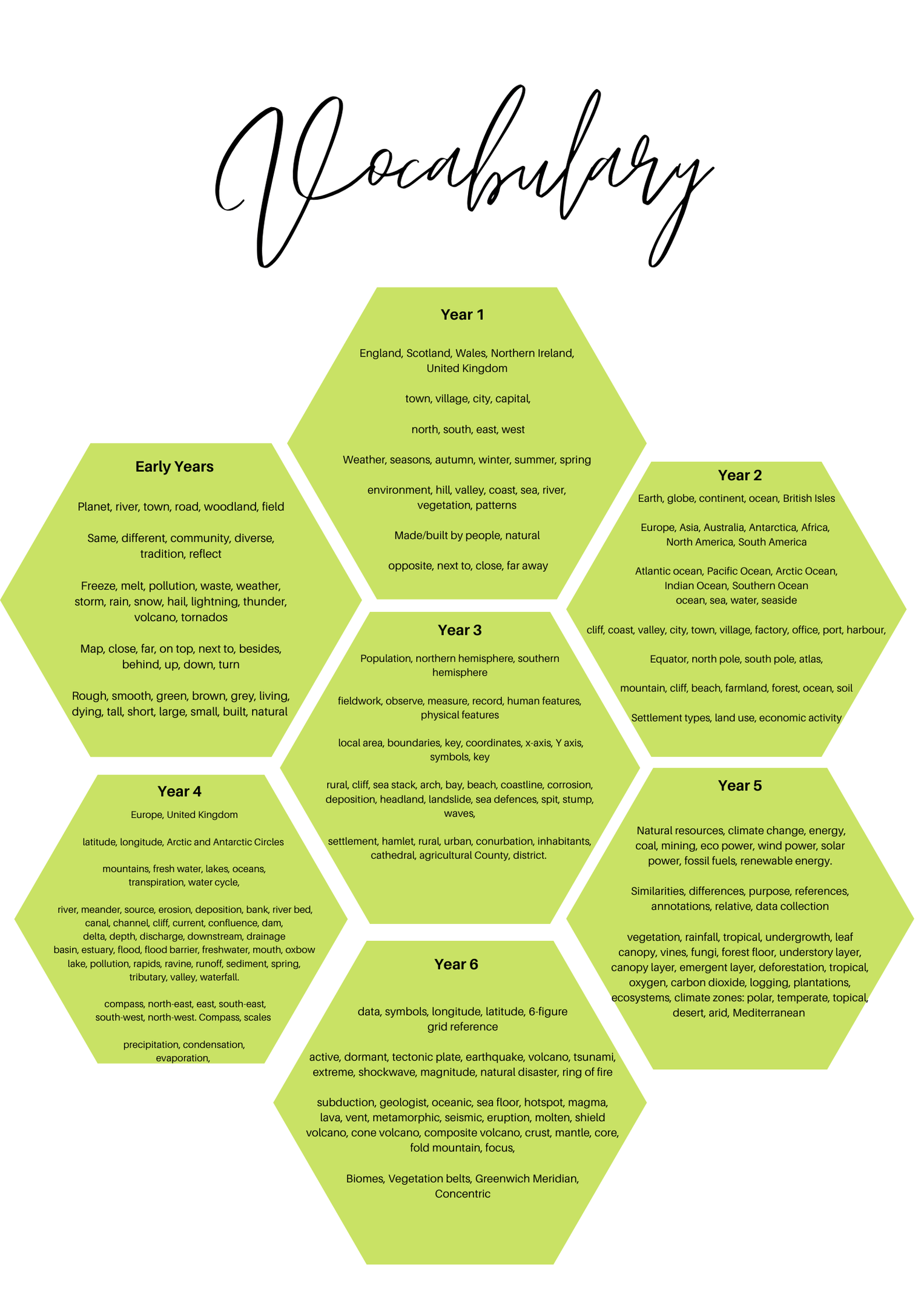 Please see below for our recommended reads for geography: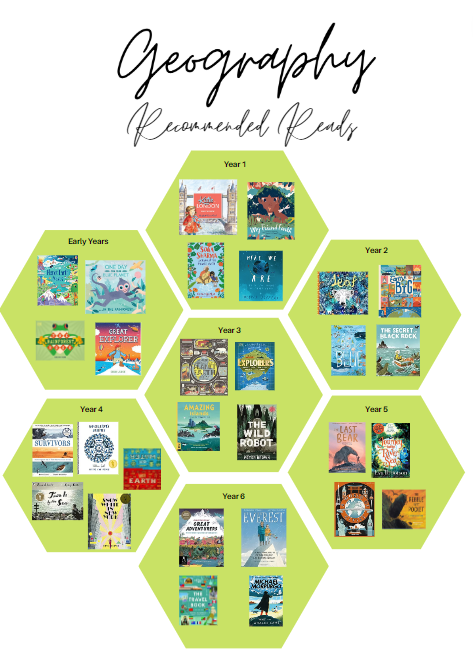 Here's what our children say:
"Geography is the best! We get to learn about different countries and places that we'd never normally know about."
"We go on really fun trips, like the time we went to the beach to do a litter pick and got interviewed by Sky News!"
"We learn lots about where we live."